Posted by NorthStock, Inc. on Mar 30th 2022
Industrial patio heaters allow you to create comfortable outdoor environments for dining, working, shopping, and more. They're popular in restaurant patios, outdoor gathering areas, event registration areas, loading docks, outdoor boutiques and festivals, and more. Of course, installing your commercial outdoor patio heaters is an investment, so you need to ensure you're making the best choice for your space. Here are a few things to consider when choosing your patio heating solution:
Style
While many restaurant patios might prefer the quartz tube, mushroom-style, or table-style patio heaters because of how they look, those heaters do have their disadvantages:
They take up precious floor space
They can't reach a large area (so you need more of them)
They aren't wind resistant, and they may tip over if someone bumps them
They aren't efficient
Wall, ceiling, or pole mount tube-style heaters are more versatile, more powerful, more efficient, and less obtrusive on a restaurant patio. They're also a go-to choice in other applications, like loading docks, train and bus stations, garages, warehouses, showrooms, storage spaces, and more, where appearance doesn't matter and tall mushroom or table patio heaters would be impractical or even impossible to use.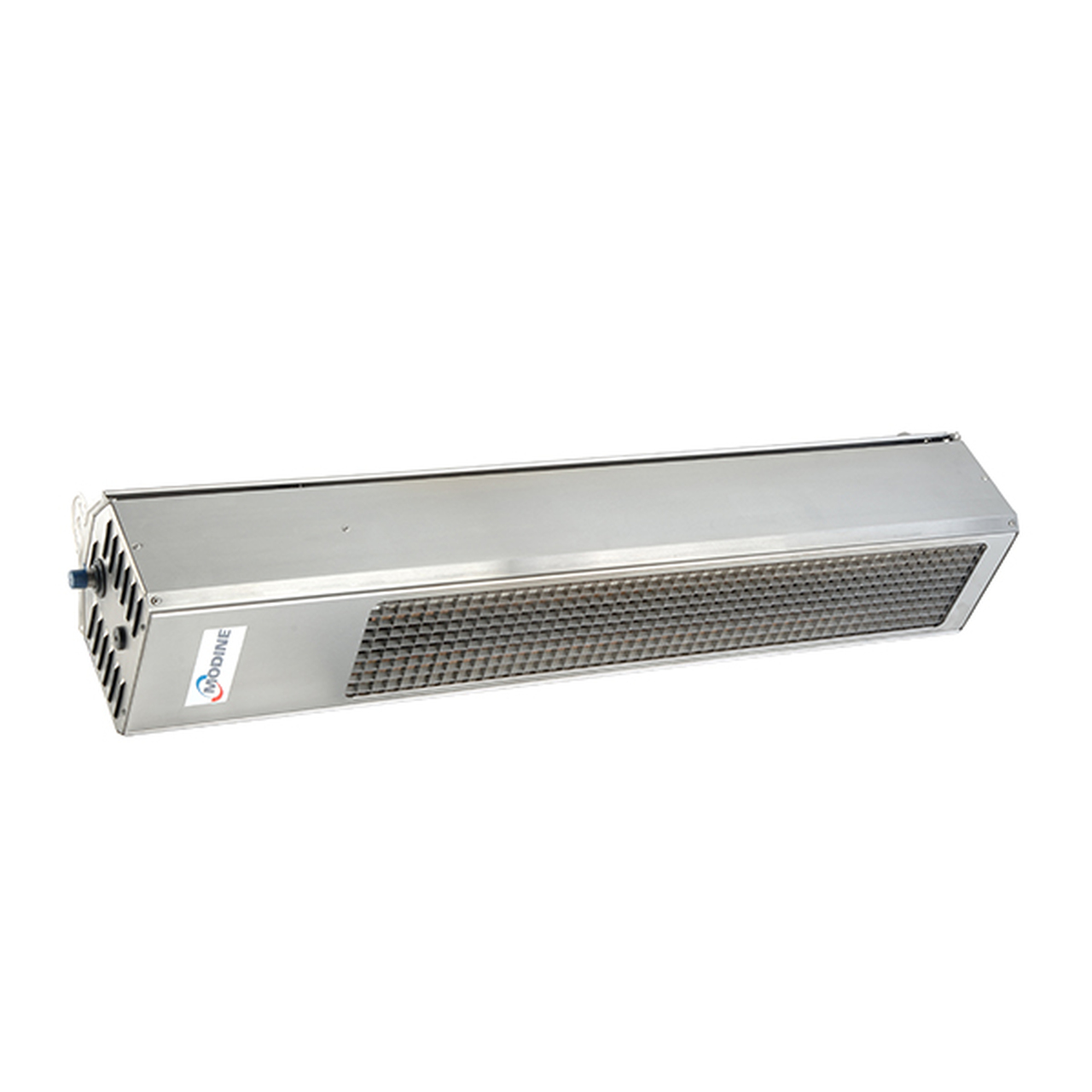 Even among wall- and ceiling-mount heaters, you can choose from various colors and styles to meet your aesthetic. The Re-Verber-Ray Designer Series commercial/industrial patio heaters, with black coated aluminized steel housing and a decorative stainless egg-crate grille, are as sleek and attractive as they are functional. They offer a wind- and rain-protected design, reliable direct-spark ignition, and versatile mounting options. The Modine OHP31S48 features brushed stainless steel housing that offers excellent corrosion resistance as well as a clean industrial look. Externally mounted controls give you easy access to the gas valve, control systems, and more, allowing for simplified maintenance when required.
Energy Source
Patio heaters can run on electricity, propane, or natural gas, and the one you choose will depend largely upon what's available at your facility and how much it costs. Though more expensive up front, commercial propane patio heaters and natural gas patio heaters are usually more affordable to operate, making them more cost-effective in the long run. This Modine OHP31S98 heater runs on propane, while the Re-Verber-Ray DSRL-30-80N heater runs on natural gas.
Low- or High-Intensity
High-intensity industrial patio heaters, like the Modine OHP31S48C3, are ventless and operate at a higher temperature. They're common in airplane hangars, patios, and other large areas where the heater must be positioned up high. Low-intensity options, like the Re-Verber-Ray DSRL-30-100P, can be vented or ventless—though that particular model is approved for unvented outdoor use only—and operate at a lower temperature. They're popular for spot heating and can be used in garages, patios and gazebos, and more.
Size, Mounting Location, and Clearance
Many commercial outdoor patio heaters are designed to be mounted on the wall, ceiling, or a pole, so you can determine which location is best for your situation. They're available in a range of sizes and Btu/h.
When choosing the spot for your heater, you'll also need to consider clearance above and below the unit. This will depend upon your particular model and its application.
Industrial patio heaters are valued for their heating capabilities and energy efficiency. At NorthStock, we're proud to carry a large inventory of patio heaters from Modine and Re-Verber-Ray, two of the top names in the HVAC manufacturing industry. Browse our selection, and reach out to our friendly customer care team if you have any questions about which one might be best for your application. Contact us today to learn more or to place your order.